WORLD DAY OF REMEMBRANCE 2023
In recognition of 2023's World Day of Remembrance for Road Traffic Victims, Melissa Wandall, Ambassador for Target Zero Florida & President NCSR, partnered with Keith Robbins, District Safety Administrator, FDOT District 1, Law Enforcement, and the Community at Large to host a World Day of Remembrance event on Friday, November 17, 2023, at the SE Corner of State Road 70 at Tara Boulevard.
This location was selected, as 2023 marked the 20th year since Melissa's husband, Mark Wandall, died at this intersection due to the carelessness of a red-light runner. Melissa's brother, Philip Wolfe, was also seriously injured in this same crash and he remains emotionally and physically debilitated today.  Sheriff Wells and Corporal Brunner spoke at the event and made an impactful statement in support of Target Zero Florida and WDoR. Charles Clapsaddle with Manatee Educational Television provided all audio and video equipment and documented the event, ensuring it will be watched in the days ahead so Floridians can continually REMEMBER, SUPPORT, and ACT in support of road traffic victims.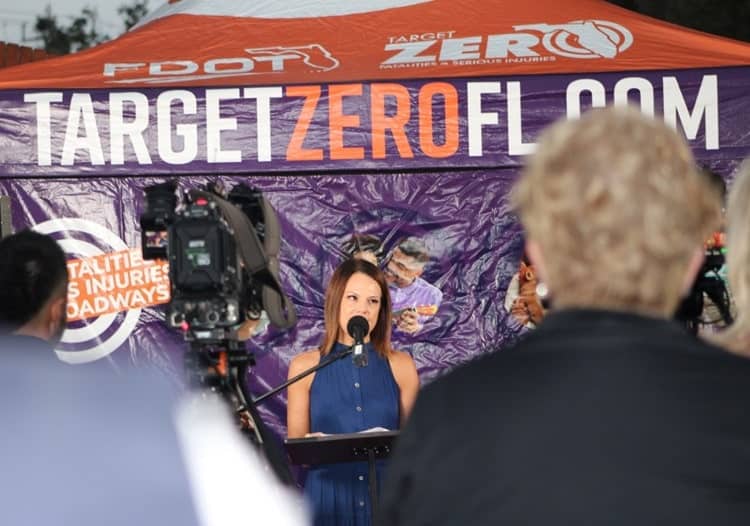 THE UNIVERSAL APPROACH TO THE 5 STAGES OF ADVOCACY
As your Advocate Consultant, Melissa will assist you with everything from laying the foundation to implementing your personal or organization's advocacy plan. Melissa has developed the "5 Stages of Advocacy" which is a universal guide that can apply to all causes, both large and small. Melissa will guide you through her "5 Stages of Advocacy" to help you develop your personalized action plan. Her clear and concise methodology will make it easy for you or your organization to define your brand, voice, direction and goals. Melissa is here to work with advocates from grassroots organizations to corporate businesses, individuals and student associations, unions and individual entrepreneurs. Everyone has a voice. Allow yours to be heard!
KEY TAKE-AWAYS WILL ALLOW YOU TO:
ENGAGE: Equip, Uplift and Resource individuals and organization for greater impact
ELEVATE: Connect individuals and organizations to advance your purpose and mission
DRIVE IMPACT: Amplify outreach in order to cultivate and sustain support
Melissa's topics are available through one on one consultation.
Sessions can be customized based on your needs and goals.
Consultation Specifics: 
Time to be determined based on needs of the individual. Contact  me today to schedule your FREE discovery call.
KEY TAKE-AWAYS WILL ALLOW YOU TO:
Melissa's topics are available as presentations and/or workshops. Each topic can be customized based on your needs and goals.
Presentations: 45-60 minutes
Workshops: 90 minutes and can be tailored for an unlimited number of participants. These sessions offer interactive activities and training to educate and motivate your group.
For more presentations and workshops, click here.
Melissa Wandall is devoted to educate, encourage and empower individuals and organizations for greater impact.
As President of the National Coalition of Safer Roads (NCSR) Melissa has set out to change highway safety and reduce the number of injuries and deaths caused by traf-fic collisions. NCSR's mission is "To Connect and Empower Survivor Advocates of traffic related tragedies with the tools and resources needed to take actions support-ing an end to road violence."
As an advocate Melissa was instrumental in passing Florida's Mark Wandall Traffic Safety Act allowing Florida communities to utilize Red Light Safety Cameras to help curb negligent behaviors, make streets safer and save lives.
In addition, Melissa is dedicated to facilitating support for children, teens and young adults in grief. She is the Founder and President of The Mark Wandall Foundation, a 501C3 non-profit organization. The initial focus affords provisions and assistance to grieving children, teens and young adults who has experienced the death of a pri-mary family member or guardian.
Furthermore, Melissa is an active Coalition member, spokesperson and campaign ambassador for Alert Today Florida an organization that works to implement Flori-da's Pedestrian and Bicycle Strategic Safety Plan. She is also a Vision Zero Champi-on. The goal of Vision Zero is to eliminate all road deaths and serious injuries.
Consistent and focused and with a natural ability to engage others, she utilizes her personal life story as a springboard to effect positive change. Known as a passionate presenter by numerous insurance companies, government agencies and business leaders, Melissa's genuine spirit influences the hearts of her listeners inspiring moti-vation and purpose.
Melissa's efforts were recognized by The National Safety Council as a 2016 Distinguished Service to Safety Award winner. The Distinguished Service to Safety Award recognizes outstanding service and contributions to the field of safety, and it is the most prestigious award given to individuals by the Na-tional Safety Council.
As an Advocacy Consultant Melissa actively travels the U.S. and Internationally, participating in speaking engagements, workshops and shares her message by en-couraging authentic leadership, inspiration and resolution.

As a strong, organized advocate Melissa draws on personal experiences that leaves the listener with greater self-awareness and empowerment that will equip them to make their own impact.

With a natural ability to empower and engage, Melissa will advocate for your brand to maximize your goals.

From laying the foundation to implementation of your personal or organization's advocacy plan, Melissa will guide you through the "5 Stages of Advocacy" in order to develop and implement your action plan!